After we got back to my place from the Athens caravan stop, I put my laptop on my cousin Catherine's lap and told her to write down our story while I tried to fix the TV so we could watch Moneyball. (Which was great, but was about 20 minutes too long and definitely needed more Huddy. Like, an hour more Huddy.) The story below is mostly written by her, with a some edits and additions by me.
Catherine was super excited to make the road trip to Athens, mainly because she wanted to see Brandon Beachy and have her birthday ball signed.  Lauren enjoyed picking on her wardrobe but agreed it was a very cute top. We got to the store later than we expected but earlier than most other fans – we were #80 and #81 in line. The fans around us in line weren't as friendly as last time. The guy in front of us only turned around when Lauren asked if he was the end of the line and the family behind us were TOO close and had adorable 2-year-old twins. We met Karen, who might be MattE's biggest fan! She was wearing a great "I heart Matt Diaz" shirt – wish we knew his reaction to it!
The Braves arrived early yet somehow we started late…and by early we mean 3:15ish for the 4:00 signing. Catherine guessed they wanted to give Homer time to make his rounds! When he came by the first time he motioned for us to hold on the he was coming back.(Lauren didn't see that; she was reading Twitter.) When he returned he high fived or shook everyone's hand except Catherine's. He faked her out twice and she finally said, "Hi H-O-M-E-R", very drawn out and obvious. Then he shook her hand and gave us hugs. Apparently he hadn't forgotten Sunday in Auburn! The funniest part as he walked off, he covered his butt with his hat! NICE, HOMER.
As we got to the autograph table, the Braves were in the center, flanked by Brian Snitker and Roger McDowell on our left and Joe Simpson and Bruce Manno on the right. We were glad they had autograph sheets on the table for those of us who didn't have anything for the non-players to sign. Catherine said after, "I felt bad because I was focused 1. on Brandon Beachy, and 2. on remembering how to breathe and speak." Lauren went down the line in front of Catherine, so that helped calm her a little.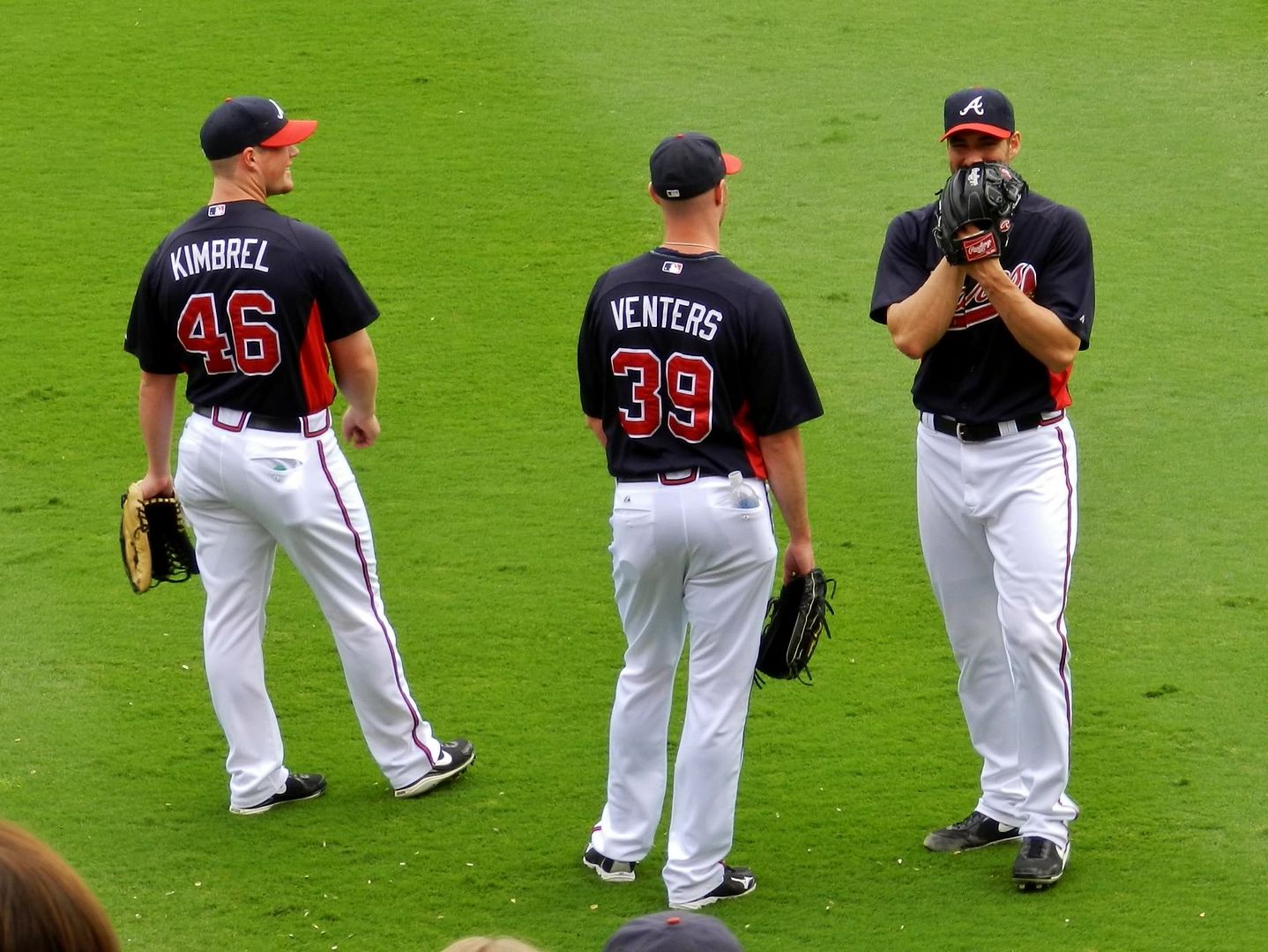 Beachy was super-nice. Lauren gave Beachy the photo to sign and told him she calls it the GiggleBeachy pic (see above). Roger looked at it and asked if she was going to have all three (Beachy, Venters, Kimbrel) sign that one, and she joked, "Eh, maybe." Roger looked surprised, so Lauren laughed, "Yeah, I probably will at some point." GiggleBeachy said something about how they have to cover their mouths sometimes. Yes, we know. Thing is, sound doesn't really carry up as much as it carries down. It's rare for us to hear what they're saying down there.
When it was Catherine's turn, she gave him her Birthday Ball and told him he had thrown it to her and he replied, "Really, I gave it to you?" with a smile. She asked if he would sign a picture as well because it was a funny one (in a different way than Lauren's, but she did take both of them). His reply to the stretching pic was, "Oh you caught me on one of the few days with my socks up. Y'all don't miss much". Catherine said nope! and sorta told him how many games we had attended. [My number was a little off, but she didn't know. Doesn't matter.] She asked if he would mind writing "To Catherine" and after she spelled her name he looked up "with the best smile EVER" and looked back down to write more! "To Catherine Best Wishes Brandon Beachy – Oh my goodness I was too excited and giggly." (My cousin is so cute, y'all.)
MattE was next, and asked Lauren if she was one of his Twitter followers. Embarrassed, she said yes. No one's ever asked her if she's a Twitter follower of theirs before. He signed her awful falling-apart #23 shirt, and when she said she bought it on the street so long ago because they weren't selling them in the Clubhouse store, he's all, "I was there for five years!" Yes, WE KNOW. Crazy store. But it was great to be able to pull his shirt out again when he returned. He was as exactly nice as you'd imagine – very down-to-earth.
He signed Catherine's hat and she asked him if "Meds really got married today" and he replied, "Yeah, I talked to Tommy this morning." Well, congrats Meds! That was fast – it seems like he just got engaged yesterday. When you know, you know, right? :) Lauren was in front of Joe Simpson at that moment and he asked, "Does that mean you're heartbroken?" Uh, no. "He's a funny one," she replied. "That he is!" a voice down the table said.
Assistant GM Bruce Manno was last, and we didn't really talk to him. Overall, Catherine said it was "even a better day than Auburn was." Well yeah, you saw Beachy. :D
On our way out, we took a few pictures in front of the inflatable jersey outside the store. Braves employee Don (who I see at these things all the time, somehow), said he wanted to be on the blog, so here we are with readers Sarah and Carlie!
This paragraph is from Catherine – it makes me laugh.
Finally, I showed Lauren around UGA campus and saw a few friends and about had a heart attack because oh yeah, BEACHY REPLIED TO LAURENS TWEET!!!!! What, I know right! I will not lie I was extremely jealous because I was 2 tweets ahead of her but hey at least he replied to her because I'm sure he will remember me from being with her. Or I hope so at least!
I had tweeted that we had a great time and was pretty surprised when Beachy replied. He's a doll. (Also, oops, meant to hashtag Braves Caravan, not @ it. I know how to use Twitter, I swear!)
More pictures!
This was my last caravan stop. If you were able to go to any, please share! Can't wait for the season to start!