Tom Glavine was inducted into the Braves Hall of Fame on Friday, and after the looooong rain delay, they had a nice little on-field ceremony for him. I convinced one of my BFFs, Holly, to come to the game with me and even convinced her to go early for batting practice! Unfortunately, we got caught in the storm between my Mechanicsville parking and the stadium and spent some time under the RDA bridge waiting out the storm. Here's a random corncob we saw (yes, people live under the bridge), and here's a video mashup of the rain. You'll see the cut about halfway through -- the first half is when we initially stopped, and the second half is about 15 minutes later. You'll hear Holly talking to her husband, and you might be able to hear me telling her to tell him it reminds me of Thunder River at Six Flags. :)
As soon as the rain slowed enough to make a run for it, we took off and went straight to the clubhouse store to find new shirts... we were soaked through! Luckily for our wallets, we found a clearance rack in the back with Escobar and Kawakami shirts, mens XL and XXL for $5 and $10 each. We bought Yunie shirts for $5, got our Designated Driver drink coupons, said hi to a couple of blog readers :) and headed over to find Susan. The rain was steady, in spite of the tweets the Braves and DOB kept posting, and the game ended up being delayed an hour and a half or so. This is all we knew, of course:

We were grateful they helped us pass the time by showing us the Phillies / Mets game on the Jumbotron. Joe Blanton's calves were pitching for the Phils, and Holly remembered Frenchy -- I was proud of her. :) She's one of the reasons I started this blog, after all. Um, let me rephrase that... she was tired of me talking about Frenchy and BMac and their BFFedness and I decided I needed more baseball-watching friends, and now I have all of you. And I love you all. :)
OK, let's move into the Glavine goodness. They aired the entire pre-game ceremony before the game, but in case you didn't see it, here are a few videos...
MLB.com full program video (14:56 long)
MLB.com short video (4:28 long)
Below is my video of Tommy's speech from the stadium, followed by a nice retrospective video they showed on the jumbotron. I was sitting in section 216 and you can really hear the crowd noise. :)
The ceremony was really nice; I'm glad I was there. Tommy has always been one of my favorite Braves, and it's nice to see the Braves respect his career this way.
~~~~~~~~~~~~~~~~~~~
As for the game, I didn't take many game pictures because I was trying to keep my friend entertained. Honestly, most of the ones I took are of Barry Zito -- I have an album full of Zito for longtime reader J.H., who texted me after I told her I think I got a pic of a wardrobe malfunction for her, "Ya know, he doesn't wear a cup. Blowin' in the breeze! ♥ I love him." And I love you, Crazy. :D
All the bases had red 47s on them, in honor. nice!
MattE's new Jumbotron pic is great and is much better than the mug shot that was up before: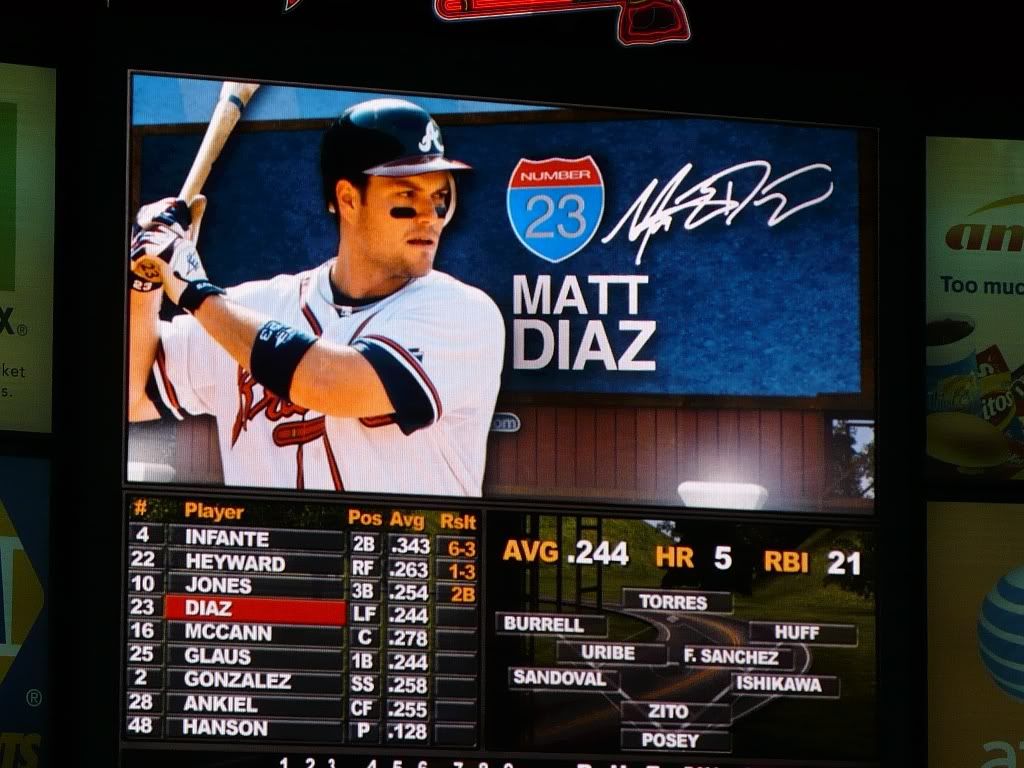 And none of my pics of former Brave Mark DeRosa came out particularly well, but you can see him here with the wrist brace on (he's on the 60-day DL):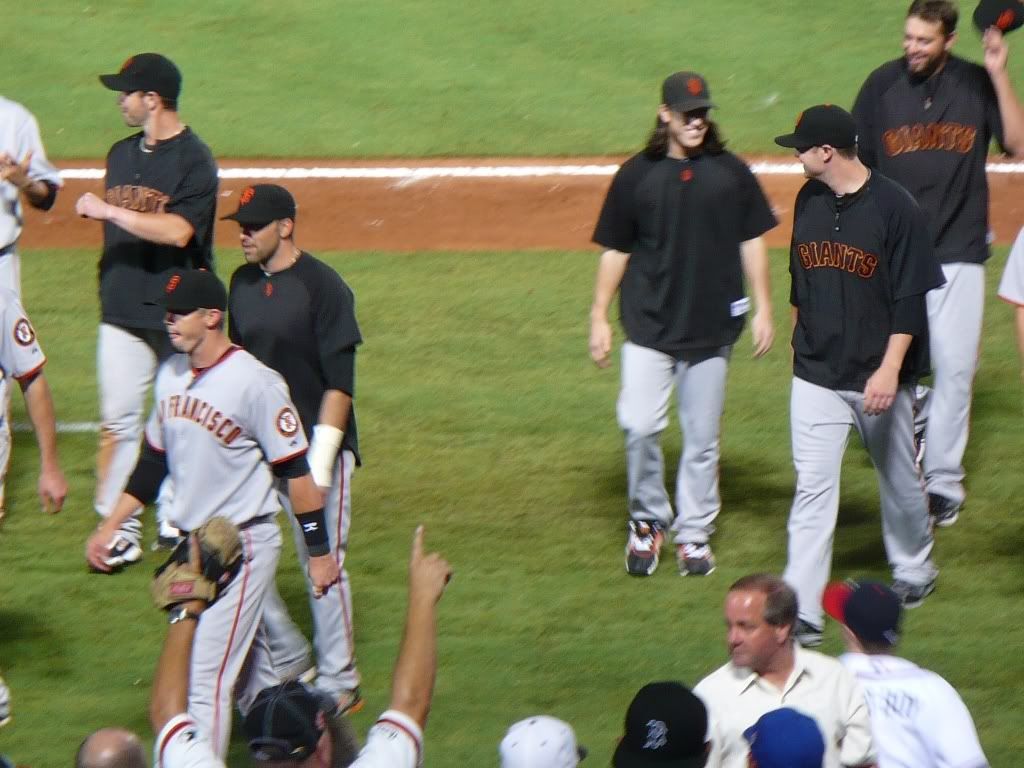 Cute video of Ross and Mac switching out (love it):
Here's the full album. Enjoy!