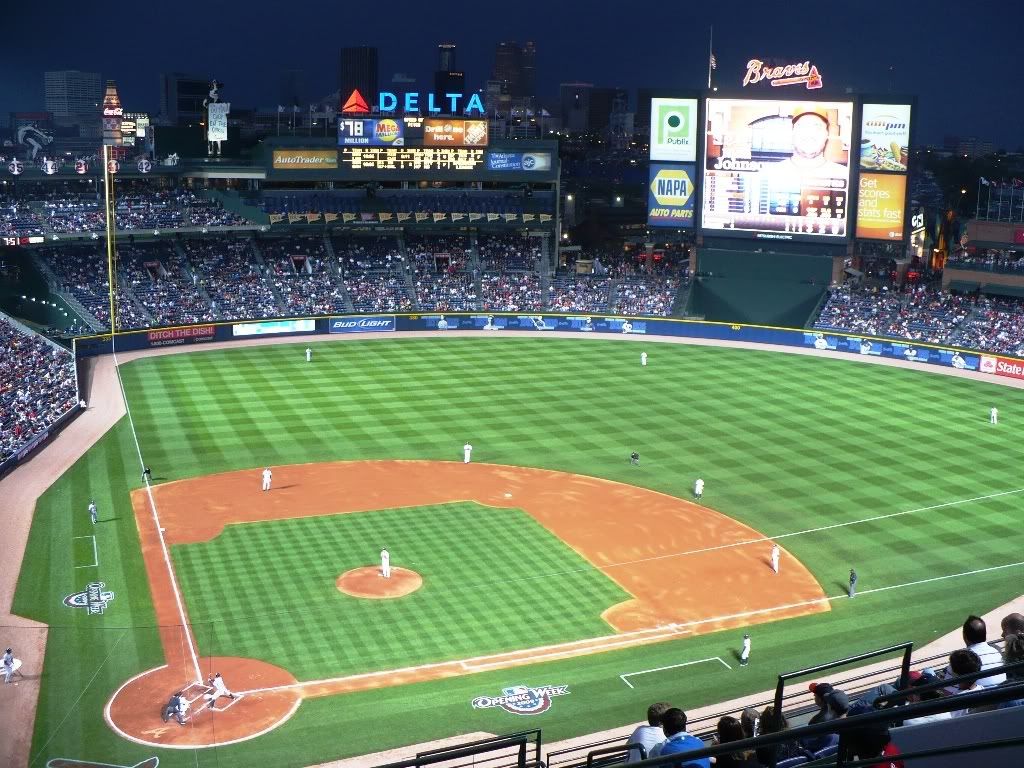 Braves Home Opener!! Twenty wonderful friends came along with me for this game, including a couple of blog friends, a Mets fan, and a couple of guys from B'ham. Some of us went early for BP -- let's get to the pictures!

Obviously, this is the best picture of the day. I already loved O'Flaherty, and you guys give him a Blow Pop? *sighs happily* Eating the blow pop pics 2 and 3.
- Garret looks up at the crowd
- MattE's mouth guard
- Baby and Huddy hanging out! Huddy's still lookin' fly.
- Gonzo and Jeff B playing pitcher-catcher. JB's hat is home plate!
- Schafer got booped in the nose by a fly ball, and Gonzo and New Javy comforted / laughed at him. 1 ~ 2 ~ 3 ~ 4
- I don't know why, but Pete wound up as if he was going to pitch (overhanded), then drilled the baseball straight into the ground. It was hilarious!
Okay, up to the ticketed seats! We were a bit split up since our group was so large, but we had plenty of time to hang out during the rain delay. More on that in a few, but let's talk about the pre-game first...
- Anyone watching this cycle of ANTM? Doesn't this member of the Tomahawk Team look like Celia?
- Baby and Lowe being respectful during the National Anthem
- The Braves honored long-time announcer Pete Van Wieren, who retired this off-season. Here's the video:
Awww! You'll be missed, Pete.
- Lineup! pics 1 and 2, and video:
(Sorry for the shakes when Baby was introduced -- my friend B was a little too excited for me, and he shook my shoulders before realizing I was recording the lineup!)
- The buzz cut, pics 1 and 2... and even better, the big screen pic!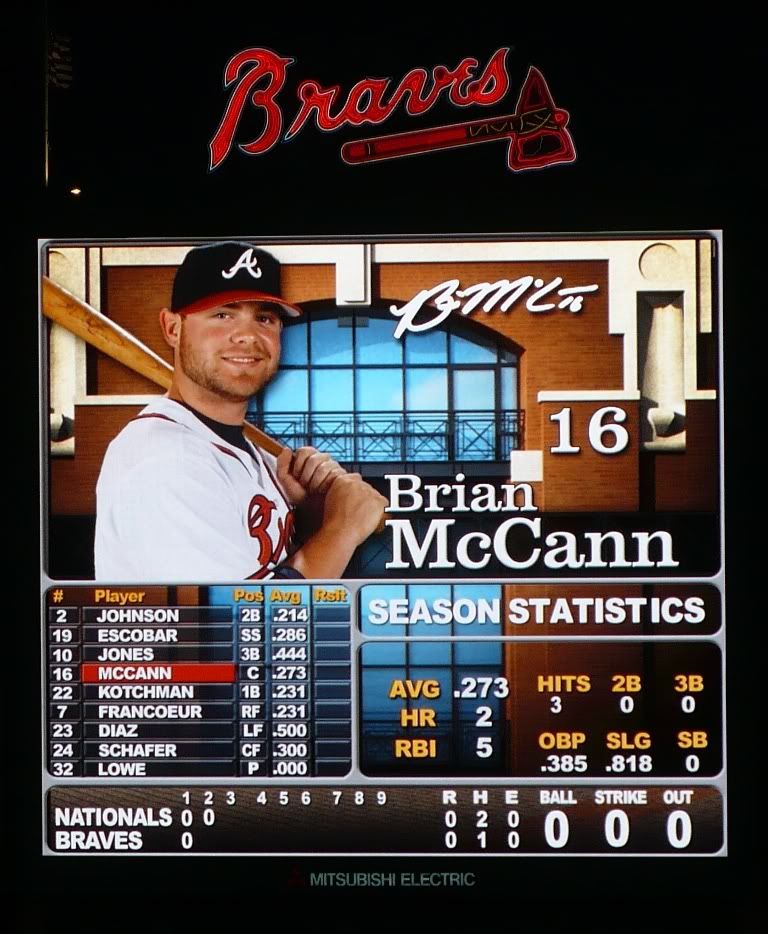 - Frenchy swings.
- Schafer's pic looks so thuggy!
The rain switched from sprinkles to pouring buckets, and we had a 2+ hour rain delay. I've never stayed through a rain delay, and it was SO fun!
- Tarp 1 ~ guy in poncho ~ Rain Delay ~ Tarp 2 ~ the puddle in short left field ~ Tarp 3
We walked around, had some snacks, laughed at/with the drunk people, and one of the best parts was watching the Heavy Hitters. Well, more like 'listening to' the Heavy Hitters, since the crowd was so thick it was almost impossible to see.
A lot of people left during the rain delay, so we were able to move to a lower section for the remainder of the game.
- I really love it when the umpire puts his hand on the catcher's back. Maybe because I'd do the same thing? ;)
- Marquis Grissom, a member of the Braves 1995 World Series champion team, was in the Nats dugout. So cool!
- Check out what was in the bottom of my friend's Coke cup. Scary! He got a free Coke out of the deal.
- Yunie on third
- Baby's swing
- As B said, "Well, at least his opponent's batting average can't go up!"
- Mmmm, O'Flaherty!
- The Home Depot Tool Race has actual people in tool costumes running this year instead of just a cartoon on the jumbotron! This was almost as funny as last week's nut vendor, and the drill bit bobbing might be funnier!
- MattE minus hat
- Gonzo came in to hold the game close -- here's a little action for you ladies:
- Baby watching his friend bat, then sitting together in the dugout. :)
- KJ knocked in Schafer for the game-winning run in the bottom of the 10th! Video ~ pic 1 ~ pic 2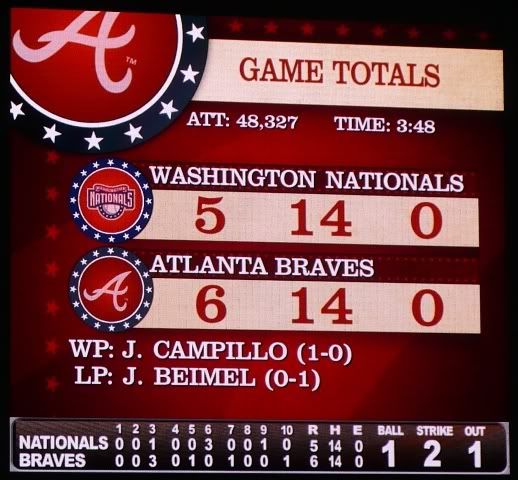 We started filing out of the stadium at 1:20am. Woo, Braves win! Please enjoy the entire photo album here. :)